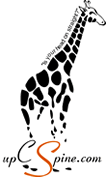 INTRODUCTION TO UP C


Upper Cervical (UpC) Chiropractors utilise very specific and mainly gentle approaches, techniques, methods and procedures to measure and 'adjust' displacements in the upper cervical vertebrae, in particular displacements of the atlas with respect to the skull. READ MORE...
UP C TECHNIQUES


This section summarises information about a wide variety of upper cervical approaches & techniques including Palmer Specific UPC, Blair upper cervical, NUCCA. READ MORE...
"Neck Injuries May Lead to Fibromyalgia... People who sustain a neck injury may be at an increased risk of developing fibromyalgia, a chronic and painful muscle disorder, a team of Israeli and U.S. researchers report. Fibromyalgia occurs in about 2 percent of the general population and is marked by stiffness and pain throughout the body. While doctors are not sure what causes the disorder, the new findings suggest that neck trauma may be one possible cause. The researchers, led by Dr. Dan Buskila of the Soroka Medical Center in Israel, found that fibromyalgia was 13 times more common among patients with neck injury compared to those with a leg fracture. 'Medical Tribune News Service' "
ABOUT UP C SPINE


My name is Greg Buchanan. Welcome to my website. I have developed this website primarily as an information website for people desperately searching for answers to their medical conditions. READ MORE...
EVIDENCE


The evidence section is intended to provide you with information found in the form of books, websites, scientific studies, newspaper reports, case studies, testimonials, miscellaneous documents and anecdotal stories. READ MORE...
BLOG


My blog contains newsletters and rambles about my research and good stories about upper cervical care. READ BLOG..