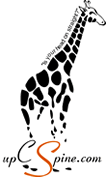 INTRODUCTION TO UP C


Upper Cervical (UpC) Chiropractors utilise very specific and mainly gentle approaches, techniques, methods and procedures to measure and 'adjust' displacements in the upper cervical vertebrae, in particular displacements of the atlas with respect to the skull. READ MORE...
UP C TECHNIQUES


This section summarises information about a wide variety of upper cervical approaches & techniques including Palmer Specific UPC, Blair upper cervical, NUCCA. READ MORE...
"A 5-year-old patient was diagnosed with ADHD and treated by a pediatrician unsuccessfully with methylphenidate (Ritalin), Adderall, and Haldol for 3 years. The patient received 35 chiropractic treatments during the course of 8 weeks. A change from a 12 degrees C2-7 kyphosis to a 32 degrees C2-7 lordosis was observed after treatment. During chiropractic care, the child's facial tics resolved and his behavior vastly improved. After 27 chiropractic visits, the child's pediatrician stated that the child no longer exhibited symptoms of ADHD. 'Bastecki AV, Harrison DE, Haas JW; J Manipulative Physiol Ther. 2004 Oct;27(8):e14; Cervical kyphosis is a possible link to attention-deficit/hyperactivity disorder.'"
ABOUT UP C SPINE


My name is Greg Buchanan. Welcome to my website. I have developed this website primarily as an information website for people desperately searching for answers to their medical conditions. READ MORE...
EVIDENCE


The evidence section is intended to provide you with information found in the form of books, websites, scientific studies, newspaper reports, case studies, testimonials, miscellaneous documents and anecdotal stories. READ MORE...
BLOG


My blog contains newsletters and rambles about my research and good stories about upper cervical care. READ BLOG..