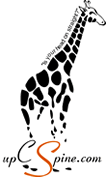 INTRODUCTION TO UP C


Upper Cervical (UpC) Chiropractors utilise very specific and mainly gentle approaches, techniques, methods and procedures to measure and 'adjust' displacements in the upper cervical vertebrae, in particular displacements of the atlas with respect to the skull. READ MORE...
UP C TECHNIQUES


This section summarises information about a wide variety of upper cervical approaches & techniques including Palmer Specific UPC, Blair upper cervical, NUCCA. READ MORE...
"Anatomical abnormalities of the cervical spine at the level of the atlas vertebra are associated with relative ischaemia of the brainstem circulation & increased blood pressure. Manual correction of this misalignment has been associated with reduced arterial blood pressure. We conclude that restoration of Atlas misalignment is associated with marked and sustained reductions in blood pressure similar to the use of two-drug therapy. Journal of Human Hypertension (2007), 1-6"
ABOUT UP C SPINE


My name is Greg Buchanan. Welcome to my website. I have developed this website primarily as an information website for people desperately searching for answers to their medical conditions. READ MORE...
EVIDENCE


The evidence section is intended to provide you with information found in the form of books, websites, scientific studies, newspaper reports, case studies, testimonials, miscellaneous documents and anecdotal stories. READ MORE...
BLOG


My blog contains newsletters and rambles about my research and good stories about upper cervical care. READ BLOG..