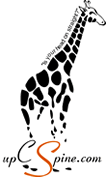 INTRODUCTION TO UP C


Upper Cervical (UpC) Chiropractors utilise very specific and mainly gentle approaches, techniques, methods and procedures to measure and 'adjust' displacements in the upper cervical vertebrae, in particular displacements of the atlas with respect to the skull. READ MORE...
UP C TECHNIQUES


This section summarises information about a wide variety of upper cervical approaches & techniques including Palmer Specific UPC, Blair upper cervical, NUCCA. READ MORE...
"Where I work (Germany, Belgium, Switzerland) I do not deem it necessary to let the parents sign a written [consent] form. All parents receive a folder explaining the procedure and the eventual reactions of the children. To our knowledge there are no serious side effects to manual therapy in children (MTC) if the guidelines laid down here are followed. Our archives comprise more than 25 000 children treated in our practice (as of July 2003) and another group at least as big as this one treated by colleagues who follow the same procedure (Page 238). Biedermann, H. (Ed.) Manual Therapy in Children. 2004. Churchill Livingstone. ISBN 0 443 10018 7 "
ABOUT UP C SPINE


My name is Greg Buchanan. Welcome to my website. I have developed this website primarily as an information website for people desperately searching for answers to their medical conditions. READ MORE...
EVIDENCE


The evidence section is intended to provide you with information found in the form of books, websites, scientific studies, newspaper reports, case studies, testimonials, miscellaneous documents and anecdotal stories. READ MORE...
BLOG


My blog contains newsletters and rambles about my research and good stories about upper cervical care. READ BLOG..