Home | About Up C Spine | Advocates | James and Rhonda Tomasi



JAMES AND RHONDA TOMASI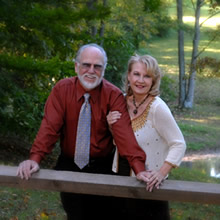 Dr. James Tomasi left business in 1999 to pursue an active role as President of International Christian Servants. From that platform he has become personal friend, counselor, business consultant and spiritual advisor to many UC DC's.
James is an entertaining speaker at UC DC events like the Evolution's, UCHCA Marketing seminars, AUCCO, and the Knee Chest, Sonar, Orthospinology, and NUCCA group seminars. He has impacted students at Life West, Life University, Logan, Palmer, Sherman College and Sherman Lyceum by encouraging them to become an Upper Cervical Master.
To take the story of Upper Cervical to a grass roots level, he wrote "what Time, Tuesday?" which is in its 5th printing and has over 100,000 copies circulating.
He has encouraged, prayed with and listened to thousands of patients. His dedication has taken him into over 300 clinics where he has encouraged people to try Upper Cervical Care, as well as on 8 mission trips with UC DC's.
He and Rhonda teamed with Greg Buchanan to found the Upper Cervical Advocates Association in 2007. He was awarded his honorary Chiropractic degree from Sherman College by President elect Jon Schwartzbauer and departing President Thom Gelardi in December, 2007 in recognition of his dedicated service. In May, 2008, Sherman College recognized he and Rhonda with a Distinguished Laypersons of the Year Award.
He hosts Internet TV shows, does radio and TV interviews. He dedicates his life as a passionate Upper Cervical Advocate to reach those who are hopeless and desperate with a message of hope. He stresses to UC DC's that becoming "AS ONE" is the only way to emerge and influence the nations with the message of Upper Cervical Care.